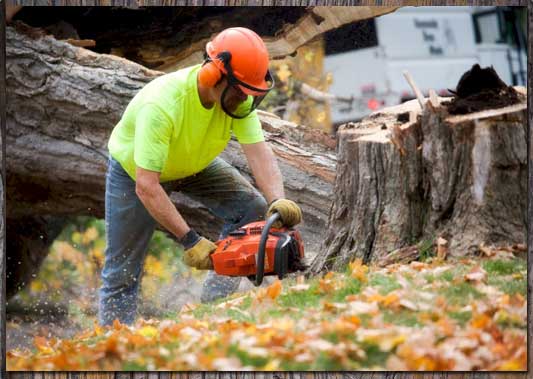 As we all know very well – and particularly in Michigan — trees play an integral role in the beautification of one's residential or commercial property. They can turn an average looking piece of property into one that is beautiful and charming.
Trees can cause Damage
However, for all the aesthetic and practical benefits, trees can, unfortunately, also cause damage – damage to the landscape, foundation, structures, sidewalk, roof and power lines. In these situations – and others – it may be necessary to have the trees removed. Some additional reasons may include:
The tree is dead or severely damaged
The tree is no longer attractive and significantly detracts from the overall aesthetics of the property
The tree is dangerously close to your house, building or structure
Tree Removal – A Last Resort
Because tree removal is a "permanent" solution, it is most often utilized as a last resort. If the tree is deteriorating because of pest or insect infestation, a certified arborist can recommend the best treatment option and often-times save the tree. Tree removal should be the final option.
Why Hire Tree Service Professionals
If the tree removal process is not done correctly, there can be significant opportunity for danger and a potential for damage. It is for this reason that it is recommended to hire a tree service professional. Removing a tree is difficult, labor-intensive, time-consuming and potentially very dangerous.
Save Money in the Long Run by Hiring a Tree Service Professional
Although it will cost money to hire a tree professional, it will likely save time and money in the long-run by having it done right the first time. Before selecting a tree service professional, make sure the company is licensed and insured. This could save financial headaches if something goes awry. Also make sure you speak directly with the business removing your trees so that you are comfortable with them. Finally, if you have any questions, be sure to ask. They should be patient and willing and able to answer any questions you may have.
About Arbor Tree Service — Servicing Rochester Hills, Bloomfield & Birmingham
Arbor Tree Service specializes in unsafe and difficult tree removals. This includes dead or severely damaged tress, trees close to structures, damaged trees due to structure failure, and trees and shrubs in the way of home or office improvement. Arbor Tree Service is both licensed and insured. Arbor tree services all of Oakland County, including Rochester Hills, Bloomfield and Birmingham.